history

Matthew Perry was born in Massachusetts at 18/08/1969, but grew up in Canada and California.

Sporty Matthew is into ice hockey, softball and tennis in his spare time - he was once a tennis pro and was rated the number two junior player in Ottawa.

Matthew once co-wrote a sitcom called Maxwell's House. Then he got the role in Friends, a show about a group of twentysomethings who hang out together.

He got into acting when he was in the First Year at High School. He says : "After I got my first laugh on stage, I was hooked".

Always thought Matthew looks familiar?? Maybe you spotted him with all the others babes on Beverly Hills 90210, one of his firsts jobs.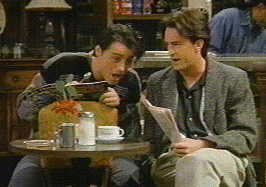 Joey (Matt LeBlanc) and Chandler.